If there is anything I love more than cooking, it's not cooking! Snack balls are the perfect opportunity to whip out the old food processor and not cook up a completely delicious and healthful family treat. These Almond Butter Oat Energy Balls taste all sweet and buttery but with sugar stabilising rolled oats, they won't have the kids bouncing off the walls. Parent win.
These almond butter energy balls are my FAVOURITE THING to eat right now.
With the Easter hoopla behind us and more chocolate lying around the house than clean clothes, these healthy bites are a super quick and delicious alternative to all that cocoa. I love chocolate, you know it's true, but sometimes a girl just needs a sweet break. Better yet, my tribe agrees. Even though the house is full of leftover chocolate, we are all reaching for these sweet, buttery treats over and over.
What makes these energy balls different? Friends, they taste like just like slightly salty vanilla COOKIE DOUGH but with none of the processed ingredients. I am in bliss.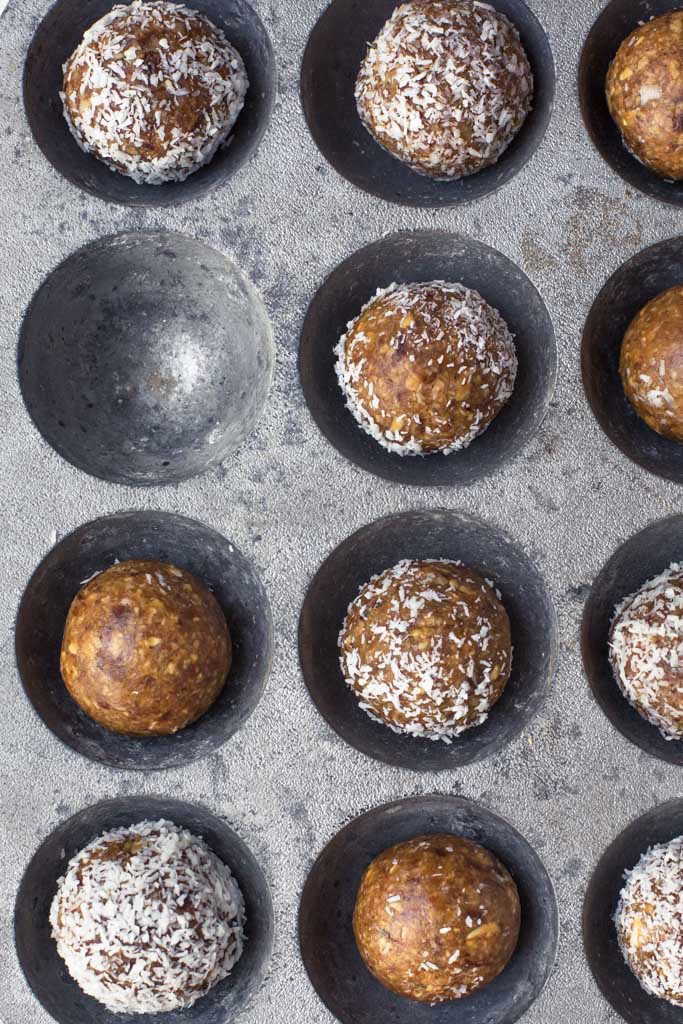 Besides being stuff-in-your-face- tasty, there are so many good things about these bites.
THE BEST THINGS ABOUT THESE ALMOND BUTTER ENERY BALLS:
You'll find the main ingredients in your pantry – rolled oats, almond (or peanut!) butter, vanilla and dates.
The kids can help make them.
NUTRITIOUS.
Not-too nutritious! Like my no-bake peanut butter oat squares, they don't taste healthy
They are perfect for a mid-morning or afternoon pick-me-up with a coffee…..mmmmm, coffee
You can add protein powder for an added boost (or hemp seeds or chia seeds) or, not.
They are adaptable. If you don't have almond butter you can swap it for peanut butter or even tahini for a nut-free version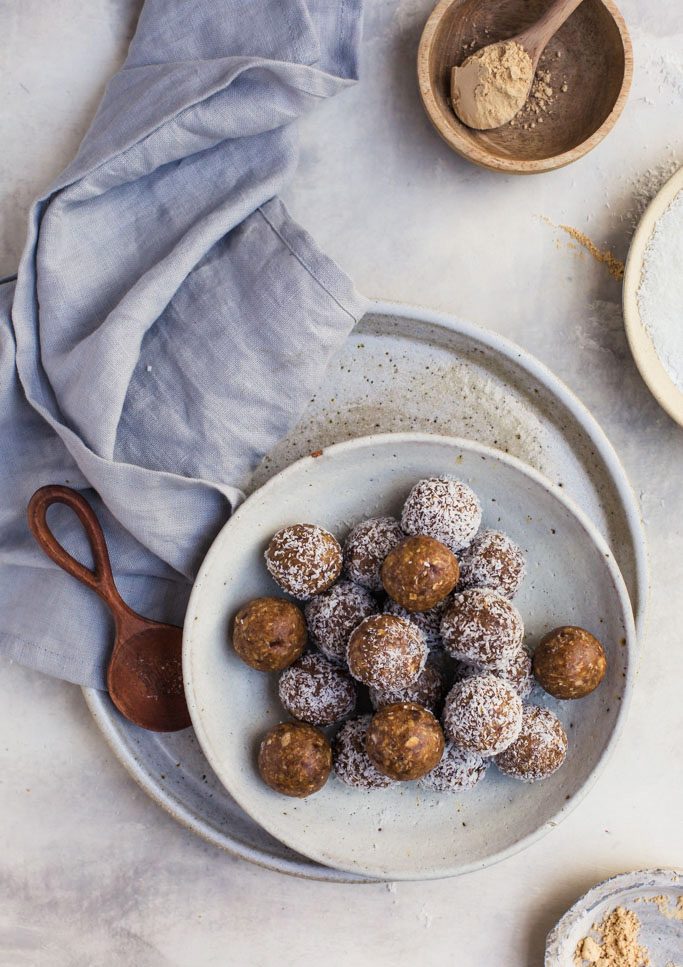 INGREDIENTS IN THESE ENERGY BALLS
Bliss ball, snack balls, protein balls, energy balls…whatever you call them, these little guys are loaded with the goodness of all-natural ingredients:
Homemade Almond Butter for protein and good fats.
Toasted Rolled Oats for the antioxidants, fibre and blood sugar reducing power
Medjool Dates for natural sweetness, antioxidants, fibre and energy
Protein Powder for, well more protein, yes?
You may well be wondering why I toast the oatmeal and to be honest, it's not mandatory. However, I find toasting the oatmeal for 5 minutes before processing enhances the flavour but also makes the finished energy ball less "chewy". We are aiming for firm but squidgy, not chewy. Another little trick is to soak the Medjool dates. In most processors, fresh dates will chop up easily but sometimes they might need a little help especially if the dates are not super fresh. A quick soak in hot water before going in to the processor takes out some of the grunt work for your machine.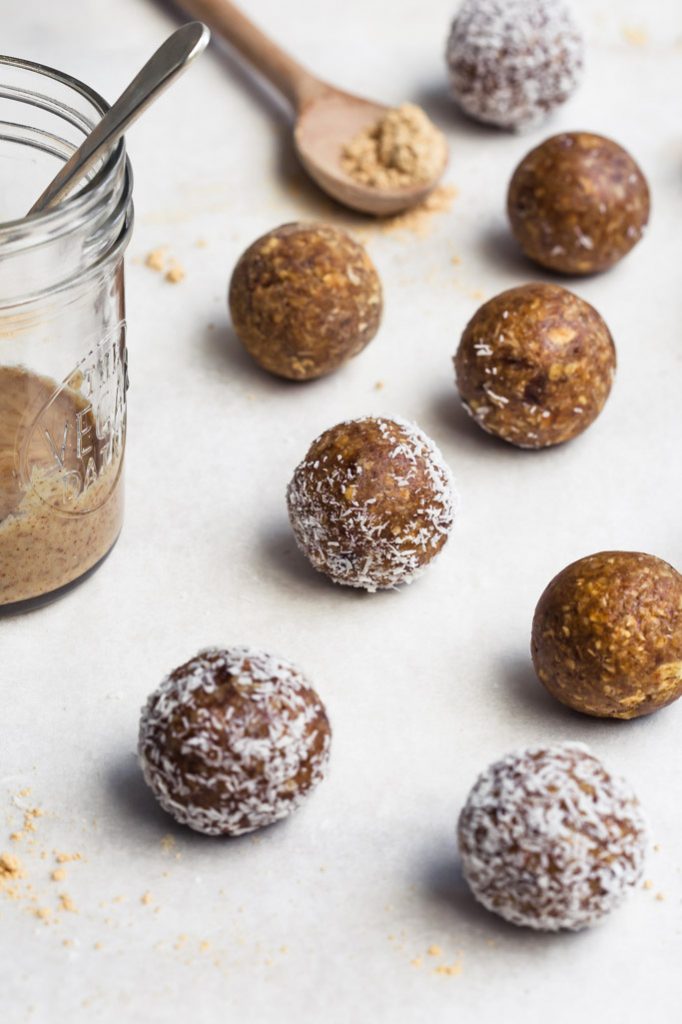 If you try these almond butter oatmeal energy balls, let me know!  Leave a comment, rate it, and don't forget to tag a photo #mygoodnesskitchen on Instagram. I'd love to see what you come up with. Thanks friends.
If you like this, you might like to check out these:
Almond Butter Oat Energy Balls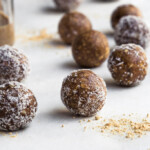 Sweet and buttery Almond Butter Oat Energy Balls recipe made with blood sugar stabilising oats. Vegan. Gluten-free option. 15 minute recipe | www.mygoodnesskitchen.com | #snack balls #vegan snack balls
240 grams medjool dates (around 10 dates)
1 1/2 cups rolled oats (use gluten-free oats if needed)
1 pinch sea salt
3/4 cup almond or peanut butter (175g)
2 tsp vanilla extract
1/2 cup desiccated coconut (40g (divided in half))
2-3 tbsp water
2 tbsp peanut butter protein powder ((optional))
Pit the dates and place them in a bowl and cover with hot to boiling water for 5 minutes.

Place the rolled oats and a pinch of salt in a large skillet and place over low to medium heat to toast. Stirring regularly, cook for around 5 minutes or until the oatmeal is fragrant and just beginning to brown at the edges. Remove from the heat.

Strain the dates and place them in a food processor with the almond butter, toasted oats, vanilla, a 1/4 cup of coconut and the protein powder.

Process the mixture adding 2 or 3 teaspoons of water to bring the it together. Continue processing until the dates are broken down and the mixture sticks together.

Pop the remaining coconut in a bowl and begin rolling the snack ball mixture in to equal-sized balls (around a tablespoon each) and roll each through the coconut to coat.

Store in an airtight container in the fridge or freezer.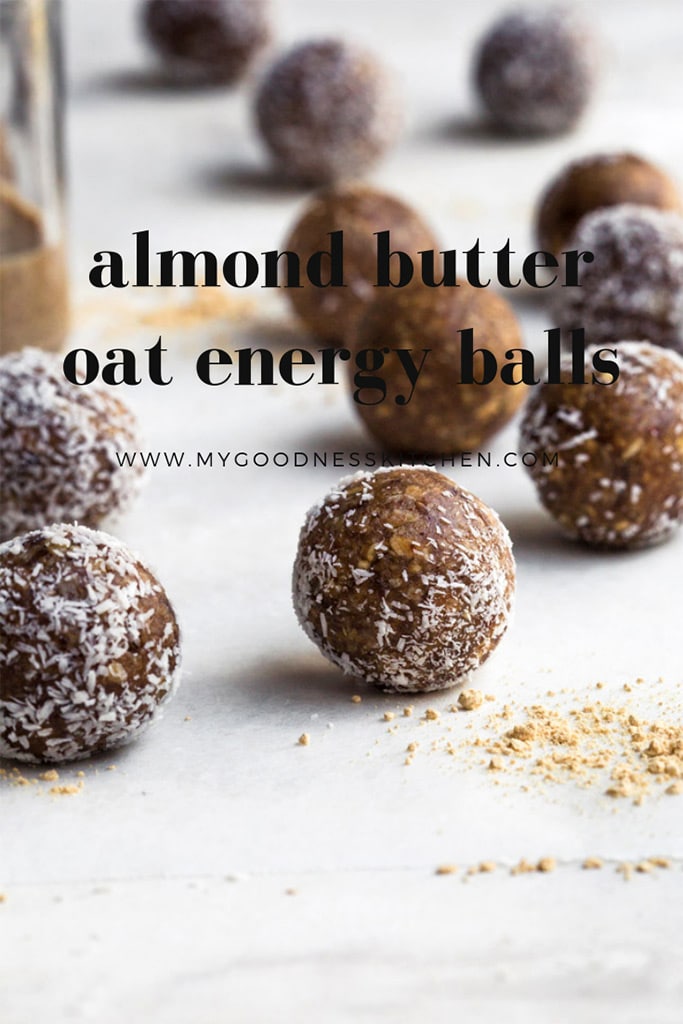 The post Almond Butter Oat Energy Balls appeared first on My Goodness Kitchen.